Secure Content Storage and Hosting
Secure Content Storage and Hosting for Government
Neubus has the Secure Content Storage and Hosting Service that your Agency needs.
Free Content Management Software and Services
"On-Premises" Hosting (Online/Nearline)
Provide Datacenter Hosting (SSAE-16 certified)
Provide Secure Cloud Hosting (AWS)
Neubus Secure Content Storage and Hosting Services provide Government Agencies with the most complete, turn-key Records and Information Management systems available today.
Our Neubus neuDocs Enterprise Content Management Software manages all digital content; Documents, Audio, Video, and Photos.
Neubus vBox℠ software provides secure citizen engagement with customizable workflow and an agency-branded Mobile Capture App.
The Neubus revolutionary storage management software provides Online, Offline, and Nearline storage environments, dramatically reducing hosting costs for our customers.
Redundent Hosting
Data and Image Backups
Disaster Recovery Services
Tape Archival Services
Private Cloud Hosting
Fail/Over Services
Disaster Recovery Services
SSAE-16 Certified Datacenters
Amazon Government Cloud Hosting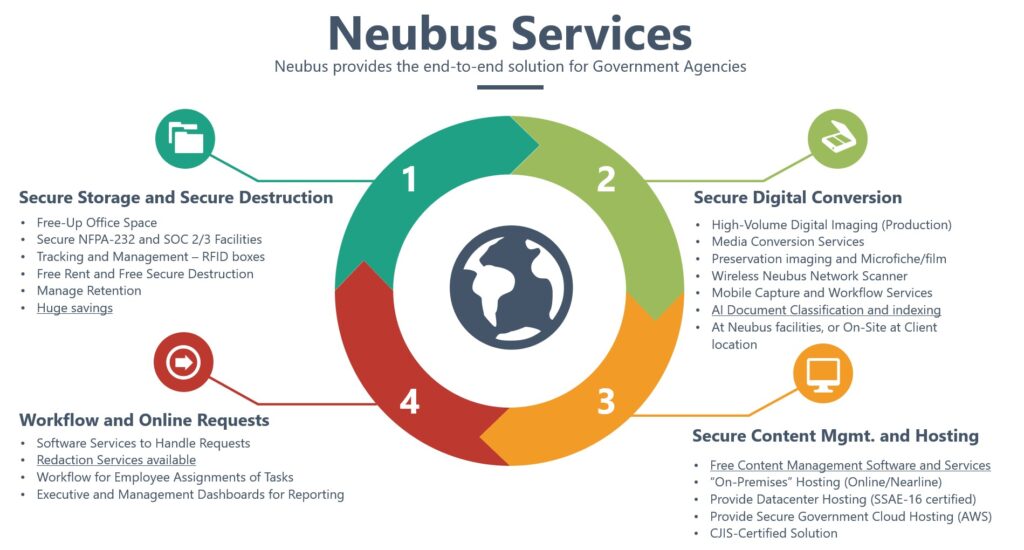 Neubus provides the end-to-end solution for Government Agencies.
Neubus deploys and installs hardware and software, including but not limited to desktop scanners at client sites, servers, applications, and secure hosting services with monitoring and maintenance.
Neubus' turnkey, fully managed services include everything clients may need, relieving them of the burden of putting together their own business operations solutions. With a cohesive end-to-end process connected by well-thought-out and well-integrated Neubus applications and tools, clients have gained many operational efficiencies, both tangible and intangible.