Terms of Use
Legal Notices and Terms of Use
This World Wide Web site is owned and operated by Neubus Inc. This page contains proprietary rights, notices and terms of use of this site. By using this site, you accept these terms of use. If you do not agree to these terms of use, please do not use the site.
Copyright Notice
© 2020 Neubus Inc. 2300 Greenhill Drive, STE 900, Round Rock, TX 78664. All rights reserved.
Proprietary Rights
All materials on this site are the property of Neubus or others, unless otherwise specified. Without Neubus' prior written permission, you may not copy, modify, display or prepare derivative works based upon the materials on this site, except that you may download one copy on one computer for your personal, non-commercial use only, provided you do not delete or change any copyright, trademark and other proprietary notices. Note that any product or service referenced on this site may be subject to other proprietary rights reserved by Neubus and are not licensed hereunder. All rights not expressly granted herein are reserved.
Any visitor to the Neubus web site who provides information to Neubus agrees that Neubus has unlimited rights to such information as provided, and that may use such information in any way Neubus chooses. Such information as provided by the visitors shall be deemed to be non-confidential.
Neubus, the Neubus logo, and Technology for the Bottom Line are either registered trademarks or trademarks of Neubus in the United States and/or other countries. All other trade names, trademarks, logos, and service marks on this site are the property of their respective owners.
Applicable Laws
This web site (excluding linked sites) is controlled by Neubus from its offices within the state of Texas, United States of America. By accessing this web site, you and Neubus agree that the statutes and laws of the state of Texas, without regard to the conflicts of laws principles thereof, will apply to all matters relating to the use of this web site. Those who choose to access this site from other locations do so on their own initiative and are responsible for compliance with local laws.
Warranty Disclaimer and Limitation on Liability
ALL OF THE INFORMATION ON THIS SITE IS PROVIDED "AS IS" WITHOUT WARRANTY OF ANY KIND, EITHER EXPRESS OR IMPLIED, INCLUDING, BUT NOT LIMITED TO THE IMPLIED WARRANTIES OF MERCHANTABILITY, FITNESS FOR A PARTICULAR PURPOSE, OR NON-INFRINGEMENT. SOME JURISDICTIONS DO NOT ALLOW THE EXCLUSION OF IMPLIED WARRANTIES, SO THE ABOVE EXCLUSION MAY NOT APPLY TO YOU.
IN NO EVENT NEUBUS BE LIABLE TO ANY PARTY FOR ANY SPECIAL, INDIRECT, INCIDENTAL OR CONSEQUENTIAL DAMAGES, INCLUDING WITHOUT LIMITATION, LOST REVENUES OR LOST PROFITS, WHETHER INCURRED BY YOU OR A THIRD PARTY, WHICH MAY RESULT FROM THE USE OF THIS SITE OR ANY OTHER LINKED SITE, EVEN IF WE ARE ADVISED OF THE POSSIBILITY OF SUCH DAMAGES. SOME JURISDICTIONS DO NOT ALLOW THE EXCLUSION OR LIMITATION OF INCIDENTAL OR CONSEQUENTIAL DAMAGES, SO THE ABOVE LIMITATION AND EXCLUSION MAY NOT APPLY TO YOU.
This site may include technical inaccuracies or typographical errors. Information on this site and any products or services to which this site refers may be changed at any time without notice. Neubus makes no representations whatsoever about any other web site which you may access through this one. Such linked sites are not under the control of Neubus, and Neubus is not responsible for the contents of any linked site or any link contained in a linked site or any changes to such sites. Such links are provided only as a convenience, and the inclusion of a link does not imply Neubus endorsement of the linked site.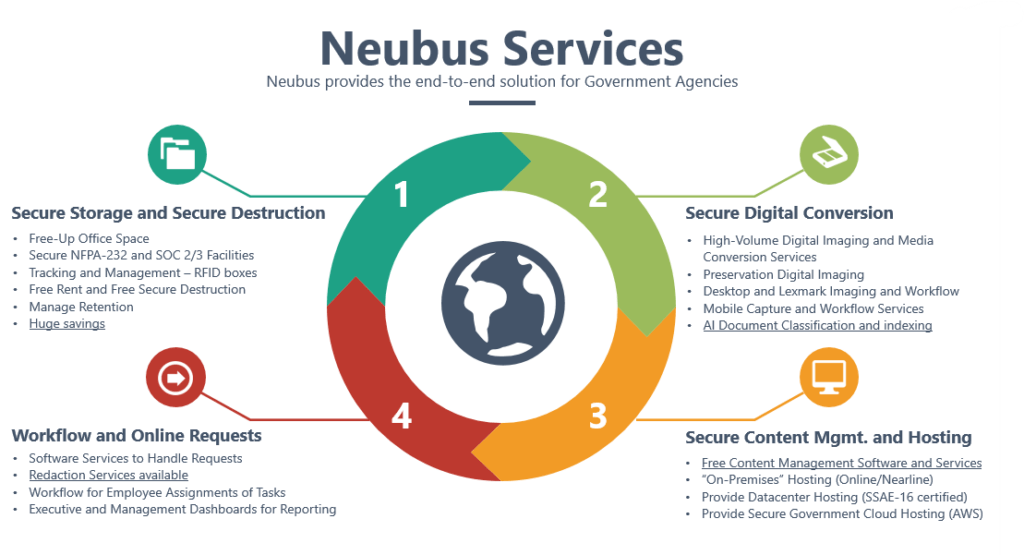 Neubus provides the end-to-end solution for Government Agencies.