Needs Analysis and Assessment (NAA)
Needs Assessment Analysis for Government
Neubus can help look deep into your business processes.
Neubus can help look deep into your printing processes with an accurate and timely Needs Analysis Assessment (NAA).
Needs Analysis Assessment (NAA)
Through ongoing discussions, Neubus thoroughly examines a client's business content, and learns about the business environment, including existing work processes and systems in use. We then compare the information determined during the NAA session(s) against the given requirements, to ensure that we implement the best-suited equipment, tools, techniques, and services for the client.
In a Needs Analysis Assessment, the Neubus team takes the client requirements and, using industry-standard metrics and past experience with Government Agencies, delivers a report to the client that includes the current environment process, the projected new environment and process, a GAP Analysis, and Business Case with a Financial Analysis. The Neubus goal is to provide the client with all the information they need to make an informed decision. This is provided to the client at no charge and with no obligation.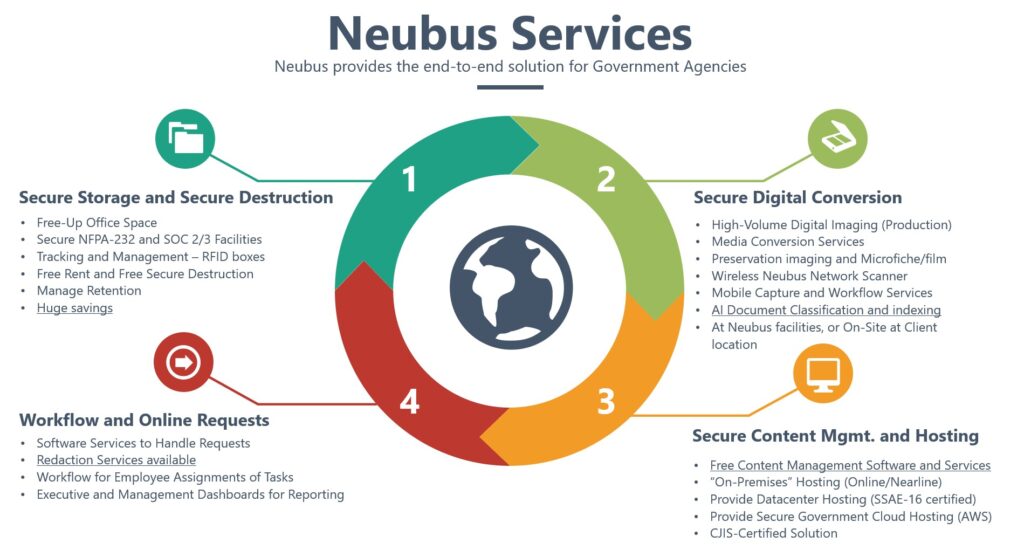 Neubus deploys and installs hardware and software, including but not limited to desktop scanners at client sites, servers, applications, and secure hosting services with monitoring and maintenance.
Neubus' turnkey, fully managed services include everything clients may need, relieving them of the burden of putting together their own business operations solutions. With a cohesive end-to-end process connected by well-thought-out and well-integrated Neubus applications and tools, clients have gained many operational efficiencies, both tangible and intangible.