The unique Neubus Approach for Government
Neubus has the Secure Document Storage and Destruction Service that your Agency needs.
Free-Up Office Space
Secure NFPA-232 and SOC 2/3 Facilities
Tracking and Management – RFID boxes
Free Rent and Free Secure Destruction
Manage Retention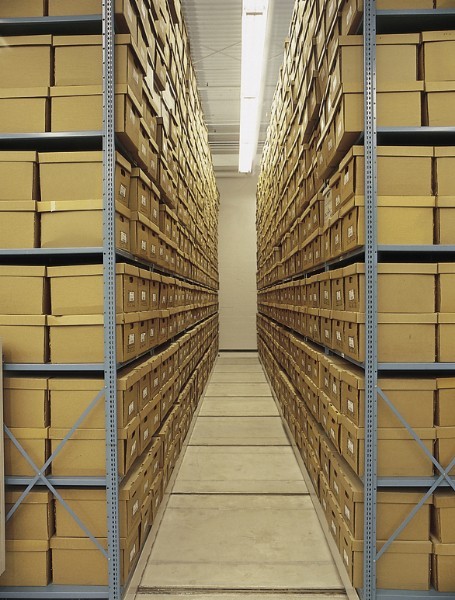 Proven, Process-Driven, and Personalized
At Neubus, our experts have spent years learning about the challenges faced by government agencies. While serving every major agency across the state of Texas, we have developed a proven, three-phase project methodology that enables us to deliver services perfectly matched to your business needs.
From beginning to end, Neubus' rigorous, disciplined approach ensures the successful delivery of imaging and document management services by involving all of your appropriate stakeholders, documenting your agency's requirements, and identifying any possible risks. The process enables us to deliver the highest levels of quality, efficiency, and accountability, and makes it as easy as possible for you to begin using our services.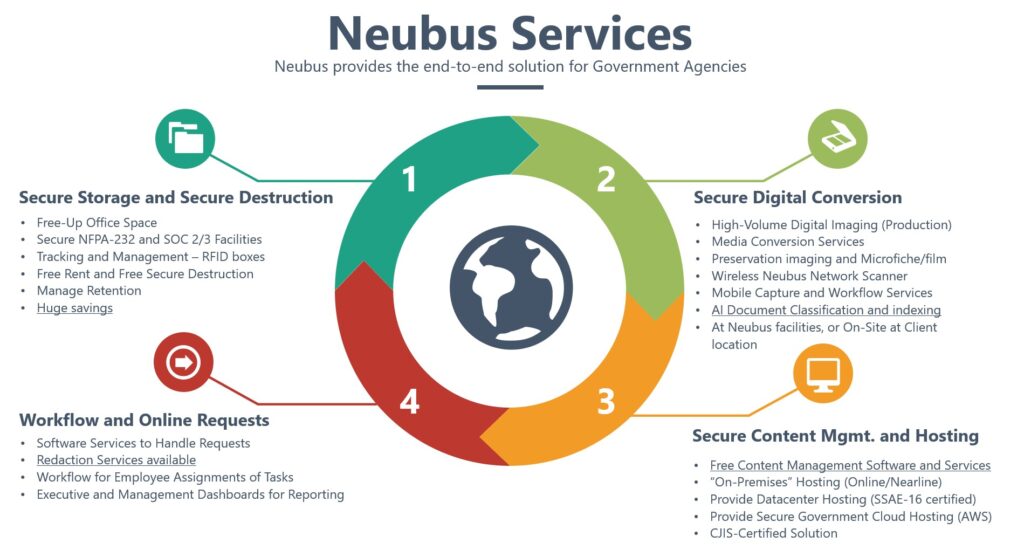 Neubus provides the end-to-end solution for Government Agencies.
Contract Management
During the first phase of our project planning, Neubus team members work with you to identify your business requirements and understand the scope and volume of your project. We also identify the specific service levels you require.
Contract Delivery Management
During the second phase, we determine how to apply our resources and experience to meet the needs identified during Contract Management.
While other vendors would require your agency to purchase hardware and assets that could take years to produce any financial return, Neubus operates some of the largest production scanning and storage facilities in the state, and we allow you to leverage the production capacity we already have available.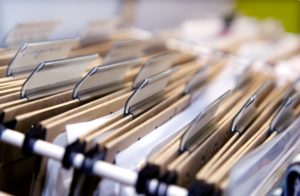 Our experts have developed a unique, automated system to quickly and accurately map your requirements to the physical resources we will use to support your project. Using this automated provisioning system, we immediately identify everything from hardware and software to staff and facilities, and we begin to reserve, configure, and install these resources in preparation for service delivery.
During the last step in this phase, Neubus experts perform detailed testing and verification of all services and conduct a pilot to make sure they are ready to roll out to your agency.
Service Delivery
The final phase of your project begins with the production launch of all services approved during the pilot, and it continues with the ongoing delivery of service to your agency. While traditional enterprise deployments can take anywhere from 18 to 24 months to reach this point, Neubus can begin service delivery in just six to eight weeks.
Once your services are in place, we continue to monitor them and use your feedback to improve our processes and performance.
Neubus deploys and installs hardware and software, including but not limited to desktop scanners at client sites, servers, applications, and secure hosting services with monitoring and maintenance.
Neubus' turnkey, fully managed services include everything clients may need, relieving them of the burden of putting together their own business operations solutions. With a cohesive end-to-end process connected by well-thought-out and well-integrated Neubus applications and tools, clients have gained many operational efficiencies, both tangible and intangible.