Information Workflow Management for Government
Neubus can help your Agency Implement an Information Workflow Management Solution.
Software Services to Handle Requests
Redaction Services available
Workflow for Employee Assignments of Tasks
Executive and Management Dashboards for Reporting
Neubus understands that digitizing information is only the first step. Once the information is captured and classified, Neubus provides automated workflows to process information in an efficient and productive manner. This automation will reduce costs and lower transaction times for agency information processes.
In addition to workflow tools, Neubus also provides solutions for tracking, management, and fulfillment of information records requests. Neubus' workflow application provides specialized dashboards to track the requests and their statuses, such as for management, for attorneys and other legal users, and for other business reporting needs.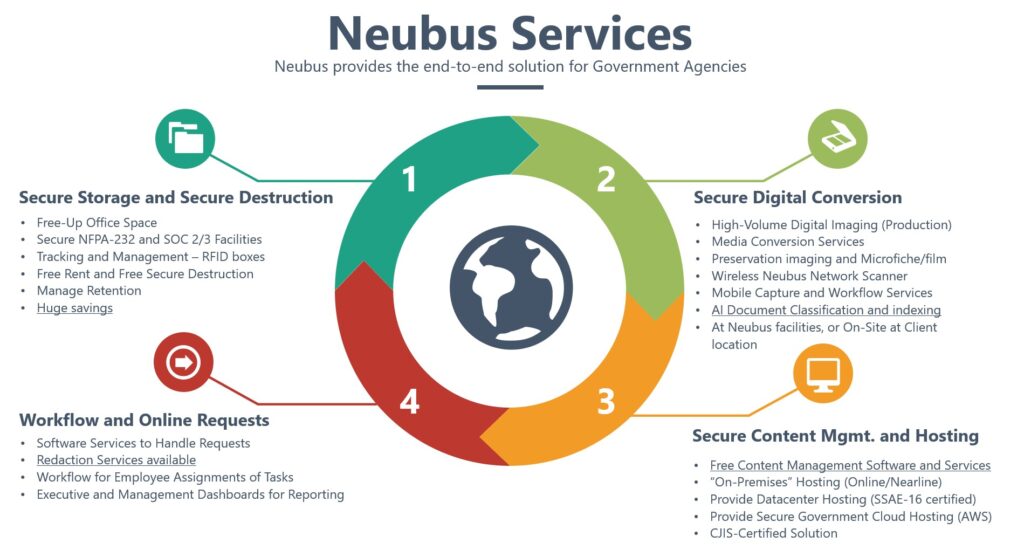 Neubus provides the end-to-end solution for Government Agencies.
Neubus deploys and installs hardware and software, including but not limited to desktop scanners at client sites, servers, applications, and secure hosting services with monitoring and maintenance.
Neubus' turnkey, fully managed services include everything clients may need, relieving them of the burden of putting together their own business operations solutions. With a cohesive end-to-end process connected by well-thought-out and well-integrated Neubus applications and tools, clients have gained many operational efficiencies, both tangible and intangible.