Texas Department of Information Resources
Texas Department of Information Resources
Neubus has the Secure Document Storage and Destruction Service that your Agency needs.
Free-Up Office Space
Secure NFPA-232 and SOC 2/3 Facilities
Tracking and Management – RFID boxes
Free Rent and Free Secure Destruction
Manage Retention

Service Offerings
Through Texas DIR's Cooperative Contracts, Neubus offers Digital Imaging Services (DIS) and Enterprise Content Management Services (ECM) to state and local government and other public entities in Texas, as well as public entities outside Texas. Here is an overview of Texas DIR's Cooperative Contracts Program. 
The contract pricing is available at this link.  
Obtaining Quotes and Placing Purchase orders
1. For services and pricing information, visit Neubus' website at www.neubus.com or send an email to info@neubus.com.
2. Generate a purchase order made payable to Neubus, Inc. You must reference the DIR Contract Number DIR-CPO-4407 on your purchase order.
3. E-mail to 
info@neubus.com
 or fax your purchase order and quote form to 512-532-6090
4. Call Neubus at 1-877-Y-NEUBUS (toll-free) or 512-833-5339
Warranty and Return Policies
Neubus's DIR Support and Services Agreement is available here.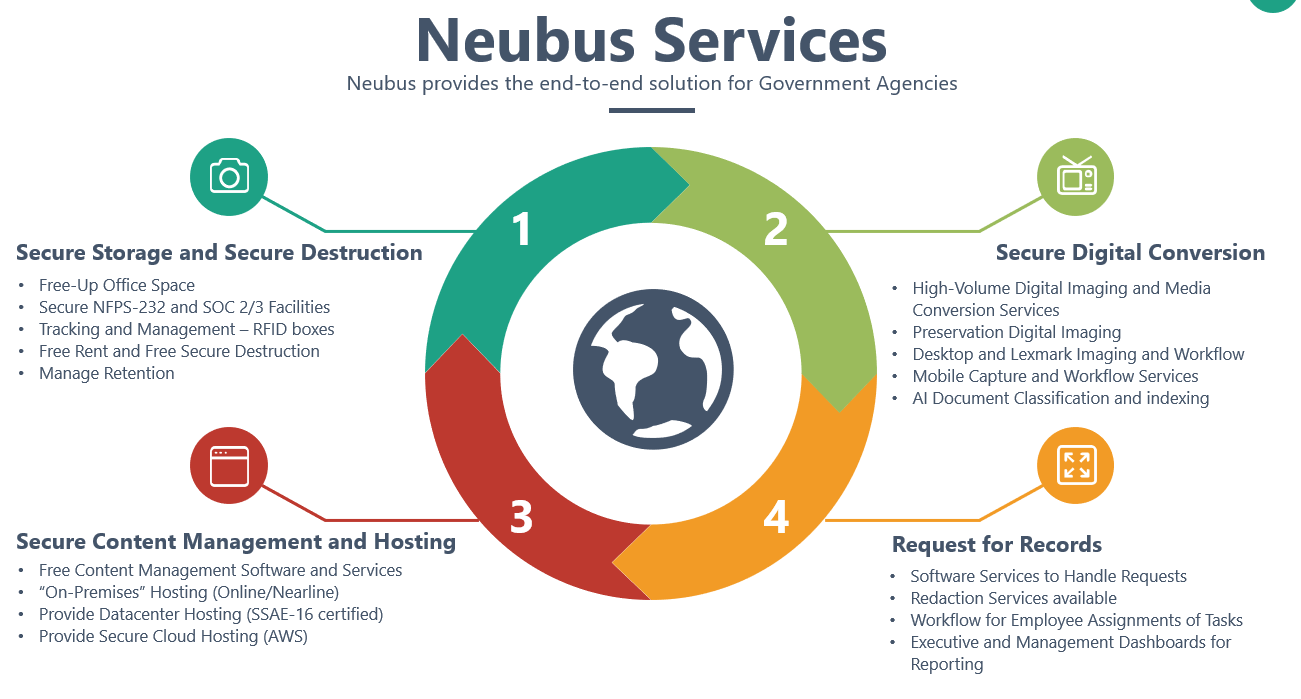 Neubus provides the end-to-end solution for Government Agencies.
Neubus delivers both software technology and hardware as part of the turnkey service. Neubus deploys and installs hardware from desktop scanners at client sites, to servers, applications and secure hosting services with monitoring and maintenance. Neubus' turnkey, fully managed services include everything clients may need, relieving them of the burden of putting together their own business operations solutions. With a cohesive end-to-end process connected by well-thought-out and well-integrated Neubus applications and tools, clients have gained many operational efficiencies, both tangible and intangible.